The history of pesticide use in this country is riddled with pesticides that were once widely used and then later banned due to health risks. Perhaps the best-known example of this is DDT. Widely used from the early 1940s to 1973, DDT was largely responsible for increasing farm productivity in this country; but at what cost? In 1962, Rachel Carson's classic book Silent Spring detailed the full range of DDT's hazards, including its persistence in the food chain and its deadly effects, but it was another ten years before the federal government banned the use of this deadly compound. Unfortunately, although DDT has been banned for nearly thirty years, it is still found in the soil and in root vegetables, such as carrots and potatoes.
The majority of pesticides currently used in the U.S. are probably less toxic than DDT and other banned pesticides, including aldrin, dieldrin, endrin, and heptachlor. However, many pesticides banned from use in the U.S. are shipped to other countries, such as Mexico, which then, in turn, send foods treated with these pesticides back to the U.S. Although more than 600 pesticides are currently used in the U.S., most experts are concerned about only a relative few.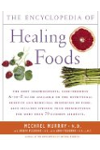 More About this Book
Encyclopedia of Healing Foods
From the bestselling authors of The Encyclopedia of Natural Medicine, the most comprehensive and practical guide available to the nutritional benefits and medicinal properties of virtually everything...
Continue Learning about Pesticides