Perhaps the most problematic pesticides are the halogenated hydrocarbon family, such as DDE, PCB, PCP, dieldrin, and chlordane. These chemicals persist in the environment almost indefinitely. For example, a similar pesticide, DDT, has been banned for nearly thirty years, yet it can still be found in soil and root vegetables, such as carrots and potatoes. Our bodies have a tough time detoxifying and eliminating these compounds, which end up being stored in our fat cells.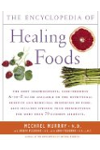 More About this Book
Encyclopedia of Healing Foods
From the bestselling authors of The Encyclopedia of Natural Medicine, the most comprehensive and practical guide available to the nutritional benefits and medicinal properties of virtually everything...
Continue Learning about Pesticides