While your rehabilitation team has given you steps for recovery from limb loss, chances are no one on the team has experienced an amputation of a limb. Perhaps the best way to get real-world advice on limb loss is to speak with other veterans who have experienced the same. Not only can another veteran give you tips on being active with a prosthesis, but he or she can also prepare you for temporary setbacks and give you ways to keep your mind and spirit boosted even when you may feel defeated.

Ask your VA doctor if you can talk to other patients who are at various stages of recovery with limb loss. Your doctor will know of available resources, so you can speak to other veterans either in person or online.
Continue Learning about Physical Disabilities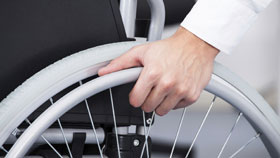 Physical disabilities can be sensory, where there are problems with sight, hearing or speech, or they may impair motor function, so that movement is restricted or imprecise. Injuries may cause a disability, and disease such as a h...
eart condition may also make normal exertion impossible. Some disabilities start at birth - congenital disabilities. Others are acquired during life. If you have a disability, it is almost certain that there are many others who do also. Most conditions have support groups or associations that have grown up relating to the problem. These groups may offer specialized help to minimize the effect of the condition.
More