A series of things leads to an increase in emotional pain when you make judgments. Here's what happens:
First, an event or situation takes place, and your negative interpretation of that event causes you to feel a painful emotion, usually something like anger, fear, or hurt.
This painful emotion is what actually causes you to judge. For example, someone cuts you off in traffic. Your interpretation of this event is something like "Oh my God, he could have killed me!" which leads to the automatic response of fear and anger, and these emotions cause you to judge: "What a jerk!"
This judgment actually increases your emotions, usually triggering more anger. Although many people rationalize their judgments by saying that judging makes them feel better, doing so actually adds fuel to the emotional fire. Research has shown that venting anger has the effect of increasing anger and aggression and keeps our emotions going rather than calming them down.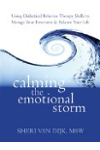 Continue Learning about Personality