Intimacy invites us to "into-me-see." The landscape of intimacy is fraught with uncertainty and questions. But it also filled with love, hope, partnership, sharing, communion, and endless possibilities for transformation and new life. Intimacy is an essential element for anyone to experience a life of true happiness.

True intimacy with oneself, with another, and with community promises endless opportunities for physical, mental, and spiritual growth and well-being. Our cultural myth of rugged individualism is destroying us on every level, but the truth is "isolation kills and community heals."

Love as intimacy replenishes and sustains our minds, bodies, and souls, and is created and fostered in community. It is a primal need of humans as social beings to belong to something greater than our individual selves. A transcendent healing power transforms us and graces us when we live and thrive in community. Relationships heal and sustain us in all of their forms including families, friends, clubs, organizations, neighborhoods, towns, states, and countries. Studies have shown how isolation leads to chronic stress and disease. Relationship is the path to real intimacy and the feelings of connection that heal. It draws us together and makes us whole. As we expand our definition of love, intimacy, and community we can begin to discover the nurturing support that is the path to true happiness in life.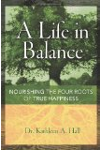 Continue Learning about Personality