Your personal atmosphere is what is most unique about you. It is the energy you exude and the way people feel when they come into your orbit. Think of the atmosphere that you experience in different restaurants.

You have a choice: do you want to be like a fast-food restaurant that is pretty much the same no matter where you go all over the globe, or do you want to be like a new and interesting restaurant with a completely original menu?

Everyone's personal atmosphere is different. Your atmosphere has a dominant theme and emotional tone. During your depression, your personal atmosphere is under construction. You are in the process of reevaluating your life to allow a deeper expression of your peculiarities and eccentricities. That which you used to sweep under the rug you may now bring out into the open. This process will create a more inviting atmosphere. The more you are struggling to live according to rigid expectations, which means you must necessarily hide the more interesting parts of yourself, the more tension you will feel and the more tension will be felt by others in your atmosphere.

The tension of repressing yourself has negative consequences for your life. The constant effort of trying to be something you are not, and trying not to be something you are, takes its toll. Your relationships, health, and work life may suffer.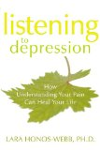 Continue Learning about Personality