Penile cancer is rare in the United States and Europe, but you should still look out for any odd changes in the look and/or feel of your penis. The most common forms of treatment for penile cancer are surgery and radiation therapy. The longer one's penile cancer goes undiscovered, the greater chance there is that all or part of the penis will be lost during treatment. (If that's not a call to action, we don't know what is.) And radiation treatment can also cause erectile dysfunction, and a decrease in sexual arousal and desire.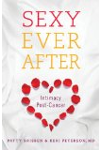 More About this Book
Sexy Ever After: Intimacy Post-Cancer
Recent studies show that 40-100 percent of men and women who have been treated for cancer have experienced some level of sexual dysfunction. Sexy Ever After: Intimacy Post-Cancer will help you...
Continue Learning about Penile Cancer