The trapezius muscle has three zones:

1) The upper trapezius has fibers that run up and down. It's easy to imagine these are responsible for holding the scapula in position at rest and lifting it when the arm moves.

2) The mid-trapezius has muscle fibers that run side to side. This portion controls the scapula while it rotates outward, creating a pivoting point around which it rotates.

3) The lower trapezius assists in rotating the scapula as the arm reaches upward.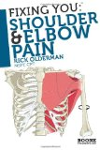 Continue Learning about Parts of the Muscular System