What strategies should I use if my child is a narcissist?
If you suspect your child is a budding little narcissist, center your parenting efforts on these strategies:
Refocus Praise: Temper those oohs and ahhs that focus only on your kid. Watch out for lavish sugar-coated, undeserved praise and giving out a trophy for every little thing. Instead stress your teen's inside qualities like kindness, cooperation and reinforce "selfless" acts so he starts to become aware of the rights, feelings, and needs of others. Also, ask yourself if you always single out your teen's performance in a group activity over the other participants. If so, watch your focus and start emphasizing your teen's team.
Face-to-Face Interaction: Narcissistic, entitled kids shut down their capacity to understand where other people are coming. Because they only focus on "ME," it's hard to put themselves into someone else's shoes and feel how they feel. So nurture your teen's empathy. Boost face to face interaction opportunities to help him see beyond himself. Help him focus on the views of others. Point out other people's feelings. Ask, "How does the other person feel?" The best antidote for selfishness and entitlement is to boost empathy.
Stress We Not Me: The best way to learn benevolence and selflessness is not lecturing about it but providing kids with real opportunities to do for others. So find ways your family – and particularly your teen – can do community service and emphasize others not themselves. Work at a shelter. Give part of their allowance to kids in Haiti. Deliver gently-used possessions to charity. Pitch in to help the elderly neighbor rake her leaves.
The real parenting goal is for our children to learn one wonderful life lesson: Doing good for others is one of the greatest ways to feel good about who you are as a person. And doing good for others is also has a hidden benefit: it's one of the simplest and best ways to boost happiness.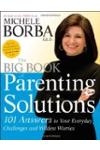 Continue Learning about Parenting
Parenting is both a science and art, requiring a mother or father to understand important issues that affect their children including safety, health, discipline, communication and play.