Rewards can be a wonderful way to recognize and celebrate accomplishments; however, they should be used sparingly. The best reward for a job well done is actually a sense of internal satisfaction. This type of a "reward" is long lasting and helps to build self-esteem. For instance, feeling great about having done well on a test will last longer that five dollars for an "A". Having said that, as parents we want (and should!) celebrate our children's accomplishments. Here are some helpful tips on how to do this:
Avoid offering incentives ahead of time. By saying "I'll take you out for ice cream if you clean your room," your child will come to expect a treat for simple jobs and chores.
Engage in encouraging and motivating conversations. "How did that make you feel to have studied so hard and gotten your grade in math up?"
An unexpected surprise can help to build a positive relationship with your child. It teaches them gratitude and you can model this. A simple example in our home illustrates how this can work:
Our family was out for a walk one day and we came upon a corner lemonade stand. The boy was trying to earn money to buy a toy and he came up with the idea of setting up a lemonade stand. His parents helped him to get the supplies and he had been hard at work the whole morning. Unfortunately, we had no cash on hand. The boy very generously said, "that's ok, you can have some lemonade anyways!" When we got home, my daughter commented on how kind the boy was and came up with the idea to go back to the lemonade stand with money in hand. The boy was thrilled to have such a generous donation and both children walked away with a sense of pride and a lesson learned. The "reward" my daughter got for her thoughtful behavior was seeing the happiness in the boy's eyes. Kindness is a wonderful accomplishment!
Emphasize the positive. Play up a good test score, a completed essay, a star on the week's piano lesson. If your child is discouraged in one area, such as schoolwork, make a big deal of accomplishments in another area, such as participation in a play.
Surprise your child by planning something for no reason – just for fun! This could be an afternoon at the park, a day at the beach, a trip to an amusement park, an evening at the movies. If your child is preoccupied with something such as peer pressure that's bringing down his self-esteem, refocus him on something else that's enjoyable and give him a fresh perspective on life.
From Good Kids, Bad Habits: The RealAge Guide to Raising Healthy Children by Jennifer Trachtenberg.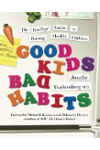 Continue Learning about Parenting