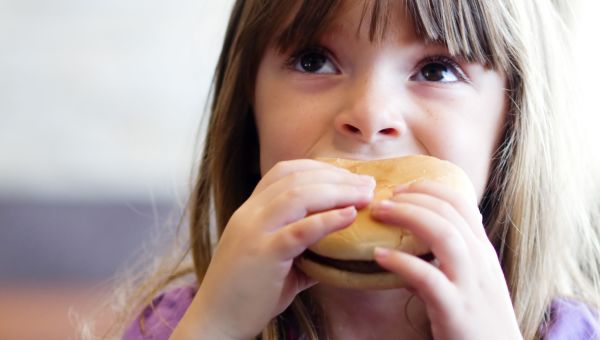 Soccer in 20 minutes? Marching band in 30? Shuttling kids between doctor appointments, play dates and music lessons sometimes means everybody's gotta eat on the run or not at all. That's when your no-fast-food promise to yourself usually flies out the car window. No worries. A now-and-then fast-food meal can be had without a humongous overload of fat, sugar, sodium and empty calories. We promise.
The trouble with most pit-stop food isn't just the fat, salt and calories. It's what's missing. Think about it. When was the last time you had a meal to go that included whole grains, fruit and vegetables? In a recent survey of 3,000 children's meals at chain restaurants, over 95 percent didn't meet the basic nutritional guidelines for preschool and school-aged kids.
But the good stuff's out there if you pause for a moment and order smart. One caveat: Excess sodium seems to be a fast-food given. Even in kids' meals, sodium may amount to nearly half or more of their daily limit. So watch how much salt they are eating throughout the day, knowing they're likely to get more than you like when eating on the run.
Here are six busy-night dinner options that give kids food they like and nutrition they need, minus the junk. They're listed in order, starting with the healthiest.
1. Subway: Roast Beef Kids Meal; the sandwich (hold the cheese) on whole-wheat bread; apple slices; 100 percent juice
Calories: 335 (9 from sat fat); sodium: 515; healthy stuff: whole grains, fruit, calcium
2. Burger King: Kids macaroni and cheese, apple fries (skip the caramel sauce), fat-free milk
Calories: 285 (14 from sat fat); sodium: 490 mg; healthy stuff: calcium, fruit
3. KFC: Grilled chicken drumstick, corn on the cob, unsweetened tea, string cheese
Calories: 270 (23 from sat fat); sodium: 545 mg; healthy stuff: vegetables, calcium
4. Sonic: Corn dog, apple slices, low-fat milk
Calories: 355 (45 from sat fat); sodium: 660 mg; healthy stuff: fruit, calcium
5. McDonald's: Plain hamburger, apple dippers (without the caramel sauce), low-fat milk
Calories: 385 (45 from sat fat); sodium: 645 mg; healthy stuff: fruit, calcium
6. Panera: Kids Roast Beef Sandwich on whole grain bread (no cheese), fresh apple, reduced-fat milk
Calories: 450 (45 from sat fat); sodium: 650 mg; healthy stuff: whole grains, fruit, calcium
Get more health tips: