Symptoms for osteoporosis rarely present themselves until a bone is fractured or broken. Osteoporosis is diagnosed with a bone density test. You may want to ask your doctor about a bone density test if you have several of the risk factors for osteoporosis. Age is an important risk factor: if you are female and over 65 years old or male and over 70 years old a bone density test may be in order. Other indications for a bone density test include if you are over 50 years old and had a broken bone or if you are female and have passed menopause. Finally, if you have taken medications that might increase your risk for osteoporosis you should ask about a bone density test. Such medications could include hormone treatments, anti-seizure drugs, prednisone, and others.
Continue Learning about Osteoporosis Symptoms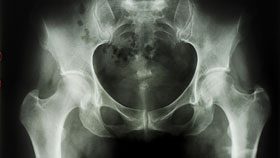 In the early stages of bone loss from osteoporosis, there is usually no pain or symptoms. Many people don't realize they have an issue until they fracture or break a bone. A bent posture, bone tenderness or loss of height can indi...
cate a loss of bone mass. A severe pain in the back, hip, wrist or any other bone may indicate a fracture or break. These symptoms don't always mean that you have osteoporosis, however. See your doctor if you're concerned.
More