You may first notice obesity through your appearance, your clothes feeling tight, or the scale showing a weight gain, but several other symptoms are associated with obesity. They may include shortness of breath, joint and back pain, chronic sweating and overheating, lack of sleep, rashes in your skin folds, and depression. Obesity can also cause serious complications, including coronary artery disease, high blood pressure, type 2 diabetes, gallstones, breathing problems, and certain cancers.
Obesity is divided into two categories based on how the fat is distributed in the body. Fat distributed primarily around the waist is referred to as male-pattern or android obesity, since it is typically seen in obese males. In android obesity, the waist is bigger around than the hips (apple-shaped). In gynecoid obesity, the hips are larger (pear-shaped). Android obesity carries with it a greater risk for cardiovascular disease and diabetes, while gynecoid obesity increases the risk of hormone-sensitive cancers, such as breast cancer.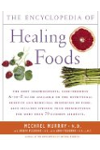 More About this Book
Encyclopedia of Healing Foods
From the bestselling authors of The Encyclopedia of Natural Medicine, the most comprehensive and practical guide available to the nutritional benefits and medicinal properties of virtually everything...
Continue Learning about Obesity