Obesity is genetic but there are many other non-genetic causes also. If someone has one parent who is overweight they have a decent chance of being overweight themself, if they have 2 parents who are overweight the odds go up to over 80%.
Obesity is better termed "Obesities" meaning there are multiple causes for someone to be overweight and finding your best solution toward a healthier weight is the goal. What works for a friend, co-worker or even physician to lessen their weight may or may not work for you.
People can have a genetic predisposition to obesity. There are multiple genes that can predispose family members to being heavy. It's a matter of how many of these genes line up, or of how much a person is predisposed to having a "thrifty metabolism," meaning that person hangs on to calories. Studies have shown that different people can eat the same amount of calories, but function at a different metabolic level. They burn more or less calories based on their genetic predisposition.
Obesity probably also has a genetic component. Some individuals have naturally higher metabolisms; they burn more calories just sitting around watching TV or reading the paper. We all know people like this—they munch on potato chips and cheese Danish with impunity, while the rest of us nibble disconsolately on lettuce leaves, thanks to our genetically determined ability to store fat with ease.
But this doesn't mean you are destined to be fat if you have a family history of overweight, a genetic predisposition to hanging onto pounds. You can rev up a sluggish metabolism. No matter what your genetic tendencies, if you keep a balance between your energy consumption and energy expenditure, you won't get fat. But if you do have a tendency to be overweight, you have to be especially careful about your diet, exercise, and other health habits.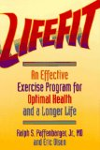 Continue Learning about Obesity