Although sodium and chloride are important, potassium is the most important dietary electrolyte. In addition to functioning as an electrolyte, potassium is essential for the conversion of blood sugar into glycogen. Glycogen is the storage form of blood sugar found in the muscles and liver. A potassium shortage results in a lower level of stored glycogen. Because glycogen is used by muscles for energy, a potassium deficiency will produce great fatigue and muscle weakness.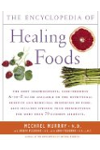 More About this Book
Encyclopedia of Healing Foods
From the bestselling authors of The Encyclopedia of Natural Medicine, the most comprehensive and practical guide available to the nutritional benefits and medicinal properties of virtually everything...
Continue Learning about Nutritive Agent