Toxic hunger is a physical addiction to an unhealthful, low-micronutrient diet. Its symptoms are generally feelings that we have been taught to interpret as hunger. However, they are actually signs of your body's toxicity.
Symptoms of toxic hunger are:
Headaches
Weakness, shakiness and fatigue
Stomach cramping
Lightheadedness
Esophageal spasms
Growling stomach
Irritability and inability to concentrate
These uncomfortable symptoms are experienced to different degrees by different individuals.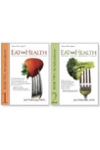 Continue Learning about Nutrition