The protein content of millet varies from 5 to 20 percent, with an average of 10 to 12 percent. Millet is generally superior to wheat, corn, and rice in terms of protein content. It is also a good source of the minerals phosphorous and magnesium, as well as B vitamins such as thiamine, riboflavin, niacin, and B6.

Besides its protein and vitamin content, millet is a hypoallergenic (low-allergy), gluten-free grain. As such, it is a perfect alternative to wheat. Like many other whole grains, it is a good source of fiber and offers protection against heart disease, diabetes, and cancer.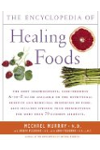 More About this Book
Encyclopedia of Healing Foods
From the bestselling authors of The Encyclopedia of Natural Medicine, the most comprehensive and practical guide available to the nutritional benefits and medicinal properties of virtually everything...
Millet is considered a "nutri-cereal" because it is high in fiber and protein and rich in B vitamins, (especially niacin, B6 and folic acid), phosphorus, manganese (a trace mineral that acts as an antioxidant), and may benefit people suffering with arthritis, inflammation, PMS and poor bone health. Magnesium is a mineral that has been shown to help relax muscle and nerves, reduce the severity of asthma and migraine attacks, build and strengthen bones, as well as lower blood pressure and reduce the risk of heart attacks. Re- discovered as a healthy seeded-grain, millet has been shown to help in controlling diabetes, lower levels of triglycerides, increase the favorable HDL levels, and reduce inflammation. Millet also contains calcium, iron, and zinc.
Continue Learning about Nutrition