Lignans are compounds found in high-fiber foods that show important properties, such as anticancer, antibacterial, antifungal, and antiviral activity. Plant lignans are changed by the gut flora into enterolactone and enterodiol, two compounds protective against cancer, particularly breast cancer. Lignans bind to estrogen receptors and interfere with the cancer-promoting effect of estrogen on breast tissue. Lignans also increase the production of a compound known as sex hormone -- binding globulin, or SHBG. This protein regulates estrogen levels by escorting excess estrogen from the body. Flaxseeds are the most abundant source of lignans. Some additional good sources of lignans are other seeds, grains, and legumes.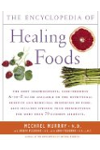 More About this Book
Encyclopedia of Healing Foods
From the bestselling authors of The Encyclopedia of Natural Medicine, the most comprehensive and practical guide available to the nutritional benefits and medicinal properties of virtually everything...
Continue Learning about Nutrition