It's probably safe to say that raisins were discovered by humans the first time they found them accidentally dried out on the vine. But it took several hundreds of years before they determined which of the 8,000 varieties of the grape genus would produce the best raisins. Historians informed us that the ancient Phoenicians and Armenians took the first steps in perfecting viticulture, the process of grape growing and selection. Between 120 and 900, the Phoenicians started vineyards in Spain and Greece. Concurrently, the Armenians founded vineyards in present-day Turkey, Iran, and Iraq. These growing areas had the perfect climate for making raisins and were conveniently close to Greece and Rome, the first markets for raisins. In ancient Rome, raisins were adorned in places of worship, used as barter currency, and given as prizes for sporting events. Grapes have flourished in the New World, in Mexico and California, since the nineteenth century. However, it wasn't until 1851 that a profitable muscat raisin was grown near San Diego. As it turned out, San Diego was not ideal for raisin growing. Although it was fortunate to have plenty of sunshine during the summer months, it lacked sufficient water to support large vineyards. Farmers then moved north, searching for a perfect spot to grow their raisins, and discovered the sun of the San Joaquin Valley. The San Joaquin Valley has ample sunshine, a long, hot growing season, and a copious water supply from the Sierra Nevada, which makes it one of the most fertile valleys in the world. As a result, the San Joaquin Valley soon became the center of the California raisin industry. The other leading world producers of raisins are Australia, Turkey, Greece, Iran, and Chile.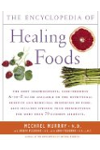 More About this Book
Encyclopedia of Healing Foods
From the bestselling authors of The Encyclopedia of Natural Medicine, the most comprehensive and practical guide available to the nutritional benefits and medicinal properties of virtually everything...
The first raisins were probably grapes that had dried naturally on the vine. People have been picking grapes for more than three thousand years and laying them out in the sun to dry. This process is still the same today although some raisins are oven dried. Raisins were a precious trade item in the Near East and also highly valued in Ancient Rome. Spanish missionaries brought them to Mexico and California in the eighteenth century. Today nearly all the commercially grown raisins in the United States now come from the San Joaquin valley of California.
Continue Learning about Nutrition