Barley provides virtually the same nutritional elements as corn. It is a very good source of fiber and selenium. It is also a good source of the minerals copper, magnesium, and phosphorous, and it contains more than four times as much magnesium as calcium. Unlike corn, however, barley is a good source of niacin (vitamin B3).

The chief health benefit of barley is provided by its fiber components. Like oat bran, barley's dietary fiber is high in beta-glucan, which helps lower cholesterol by binding to bile acids and removing them from the body via the feces.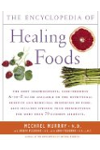 More About this Book
Encyclopedia of Healing Foods
From the bestselling authors of The Encyclopedia of Natural Medicine, the most comprehensive and practical guide available to the nutritional benefits and medicinal properties of virtually everything...
A favorite in Italian cuisine, barley is a smart and healthy option to add to your meals. In this video, Dr. Mike Roizen gives the skinny on this whole grain.
Barley is an excellent source of soluble fiber and can be effective in lowering cholesterol. Most people eat barley as pearled barley. Pearled barley is like eating white rice. The bran or outer layer is removed. Pearled barley has about half of the iron, manganese, and phosphorous of oats and 75% less thiamin. Hulled barley is barley that still has the bran intact. Hulled barley is more nutritious than pearled barley because it contains more thiamin and fiber.
Barley is a whole grain that contains resistant starch and fiber, and also does wonders for your blood sugar by picking it up and keeping it steady for hours. Watch registered dietician Frances Largeman-Roth discuss some ways you can use barley.
Continue Learning about Nutrition