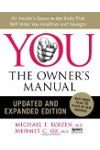 In any given day, lots of things enter our mouths-air, water, a piece of Bazooka gum. To prevent problems associated with your digestive system, fiber is one of the best things that can enter your intestinal pathway.

Fiber is the community-service director of the major food groups-it's not a sexy job, but it sure does do great things. It's largely indigestible as it passes through the digestive tract intact. Found solely in plant foods, fiber contains no calories but makes you feel full, which helps control overeating.

Most importantly, it helps keep digested food bulky and soft-so it's easy to pass through the colon. It makes it easier for the food to move through your intestines without much pressure being placed along your tubing. And that's important for avoiding such things as diverticulitis and hemorrhoids.

Both kinds of fiber-insoluble fiber and soluble fiber-are good for you.

Insoluble fiber doesn't easily dissolve in water and is not broken down by intestinal bacteria. (This type doesn't lower your cholesterol but still has an effect on your digestive system.) It's found in grapefruit, oranges, grapes, raisins, dried fruit, sweet potatoes, peas and zucchini-but especially in whole-wheat or whole-grain bread (it has to be whole grain, not five- or six-grain, to have enough fiber).

Soluble fiber dissolves in water; it regulates metabolism and digestion and stabilizes blood glucose levels. And it's mostly found in grains such as oats, barley, and rye, legumes such as beans, peas, and lentils, and some cereals.

Eating 25 grams of fiber a day can give you a RealAge effect of being as much as three years younger than that of a person who only eats 12 grams a day (the average for American adults). Plus, one study showed that a 10-gram increase in the daily intake of fiber decreases the risk of heart attack by 29 percent-and makes you 1.9 years younger.