Fake health foods are those deceptive foods billing themselves as "low in fat," like certain cookies, salad dressings, or yogurt brands. Look closely at their labels.

To make up for flavor, these items are inevitably high in sugar or salt. Other tricky foods include packaged breads and crackers with labels stating "contains whole grains." This often translates into considerably less fiber than 100% whole-grain products.

Choose real foods as much as possible. If you need to satisfy a sweet tooth, buy tasty dried fruits, such as apricots or mangos.
Fake foods are highly processed foods including foods that mimic real food (like "fake meat"). Ideally it's best to consume foods that are whole (and real). But given that many need to call on highly processed foods as a part of their daily diet, it is best to choose wisely, calling on items that have no more than 5-7 ingredients and those that you understand. To learn more and get help navigating food choice, check out Environmental Working Group's Food Score Guide and my new book, What The Fork Are You Eating.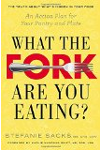 More About this Book
What the Fork Are You Eating?: An Action Plan for Your Pantry and Plate
It's labeled "natural," "grass-fed," or "free-roaming;" yet it might be anything but. It's time to find out what you're actually eating... When your groceries are labeled "low-fat," "sugar-free," and even "natural" and "antibiotic-free," it's easy to assume that you're making healthy choices. Yet even some of those seemingly wholesome offerings contain chemical preservatives, pesticides, and artificial flavors and coloring that negatively affect your health. In What the Fork Are You Eating?, a practical guide written by certified chef and nutritionist Stefanie Sacks, MS, CNS, CDN, we learn exactly what the most offensive ingredients in our food are and how we can remove (or at least minimize) them in our diets. Sacks gives us an aisle-by-aisle rundown of how to shop for healthier items and create simple, nutritious, and delicious meals, including fifty original recipes.  
Continue Learning about Nutrition