The following are first aid treatment guidelines for nose bleeds:
Put on gloves or find a barrier for your hands.
Have victim sit, leaning forward, and gently blow out blood clots. Immediately pinch together the soft part of both nostrils while pushing into the face bone.
Continue constant pressure for 5 minutes, pinching harder if bleeding persists.
Seek medical assistance if you're unable to control the bleeding after 15 minutes, or if bleeding is heavy, or the victim has trouble breathing.
Do not ask the victim to lean their head back.
Do not use an ice pack on the nose or forehead.
Do not press on the bone/bridge of the nose between the eyes.
Do not pinch nostrils and press into face if broken face bones are suspected.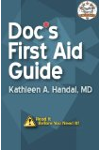 More About this Book
Doc's First Aid Guide: Read It Before You Need It
In a medical emergency, time is of the essence. "Doc's First Aid Guide" is an illustrated, first-aid pocket handbook designed to be used as a quick reference and includes the latest CPR guidelines....
Continue Learning about Nose Disorders