A nose bleed is often caused by a direct blow to the face or head, high blood pressure problems, or the use of blood thinning medications, including aspirin. It's hard to know how much bleeding occurs during a nose bleed because the victim often swallows some blood.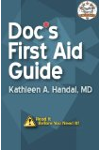 More About this Book
Doc's First Aid Guide: Read It Before You Need It
In a medical emergency, time is of the essence. "Doc's First Aid Guide" is an illustrated, first-aid pocket handbook designed to be used as a quick reference and includes the latest CPR guidelines....
Nosebleeds may be due to a change in air moisture. When the air is dry, the nasal membranes dry out and are more susceptible to bleeding and infection. Nose picking may also lead to nosebleeds. (This answer provided for NATA by the Southern Connecticut State University Athletic Training Education Program)
Some common causes for a nosebleed include colds and allergies, injury to the nose, low humidity, high altitude, and vigorous blowing of the nose, or picking the nose. Since the blood vessels lie very close to the surface in the nose, even a slight injury can cause the nose to bleed.
Nosebleeds can happen frequently in certain conditions. There may be some minor trauma to the nose. The nose may be dry on the inside, perhaps because of weather or indoor heat and air-conditioning, and the lining of the nose will crack with even minor trauma, causing it to bleed. A blood clot forms and then dislodges, and your nose will bleed again.
Continue Learning about Nose Disorders