You should not take Mobic (meloxicam), a drug prescribed to treat osteoarthritis and rheumatoid arthritis, if:
you have had serious skin reactions or anaphylaxis (shock) reactions in the past after taking it
you have a history of asthma, hives or other allergic reactions after taking aspirin or other nonsteroidal anti-inflammatory drugs (NSAIDs)
you need to have heart bypass surgery
you have liver or kidney disease
you're breastfeeding
you're pregnant (especially if you're beyond your 30th week of pregnancy)
Give your doctor a complete medical history before you start taking Mobic because certain medical problems increase your risk for serious side effects.
Continue Learning about Nonsteroidal Anti-inflammatory Drugs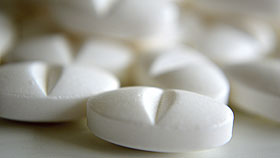 Nonsteroidal anti-inflammatory drugs, such as ibuprofen and naproxen, are used to reduce inflammation from such conditions as arthritis, back pain or tendinitis. Available over-the-counter, NSAIDs are one of the most common type o...
f medications.
More