Naproxen (Aleve, Anaprox, Midol Extended Relief, Naprelan, Naprosyn, Wal-Proxen) is a drug that reduces inflammation and is used to relieve pain and swelling in people with osteoarthritis, rheumatoid arthritis, tendonitis, bursitis, gout and menstrual pain. It belongs to a class of medications called non-steroidal anti-inflammatory drug (NSAIDs) selective COX-2 inhibitors.
This group of NSAIDs, which also includes naproxen (but not aspirin, which a different kind of NSAID), can raise the risk for dangerous blood clots that can lodge in your heart to cause a heart attack or brain to cause a stroke. It can happen suddenly and without warning. It can happen in the first weeks of taking naproxen, and the risk increases among people who have taken NSAIDs for a long time, and are already at risk for a cardiovascular event; namely, people with a personal or family history of heart disease, heart attack or stroke. And if you smoke, have high cholesterol, high blood pressure or diabetes, those can also put you at higher risk. You should not take naproxen right before or right after any heart surgery.
Let your doctor and pharmacist know if any of these risk factors apply to you.
If you experience any of the following symptoms while taking naproxen, go to the emergency room:
Chest pain
Shortness of breath
One-sided pain or weakness particularly down the left arm and jaw
Slurred speech
Continue Learning about Nonsteroidal Anti-inflammatory Drugs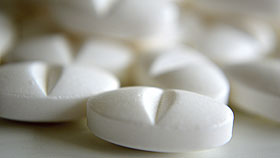 Nonsteroidal anti-inflammatory drugs, such as ibuprofen and naproxen, are used to reduce inflammation from such conditions as arthritis, back pain or tendinitis. Available over-the-counter, NSAIDs are one of the most common type o...
f medications.
More