What your children drink does more than just quench their thirst. Beverages replace the liquid their bodies lose through activity and normal body function and, when chosen wisely, can also provide a nutritional boost.

So, make sure your child's beverages count.

Plain old water works best for keeping your child hydrated and his body functioning at its best, but other drinks, such as milk and 100% juice, can be a great way to fill in nutritional holes in your child's diet. By steering your child toward these beverages and away from sugar- or caffeine-filled beverages, he or she is more likely to maintain a healthy weight and healthy smile for years to come.

From Good Kids, Bad Habits: The RealAge Guide to Raising Healthy Children by Jennifer Trachtenberg.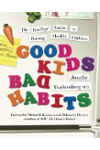 Continue Learning about Non-Alcoholic Beverages & Health