When you lie on your side, your top shoulder and arm will drop to the bed, pulling your shoulder blade forward and creating an extension stress in the cervical spine, which results in neck pain. To prevent this, try sleeping with your arm resting on a pillow to help your shoulder blade remain in an optimal position.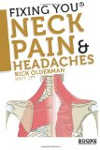 Continue Learning about Neck Pain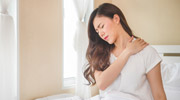 Neck pain can be caused by structural problems or trauma, like a car accident, poor posture, or even stress. A healthcare professional can help you discover the cause of your neck pain, and then help determine the best treatment. ...
That can include heat and cold therapy, massage, stretching or medication.
More