People who have sedentary jobs that require long hours typing on computers often develop neck pain.

While sitting at your desk during the day, place a folded towel under your arm to prop up your elbow. This elevates your shoulder blade, unloading strain on the muscles connecting to your neck. Do this until your upper trapezius muscle (muscle located between shoulder and neck) is adequately retrained.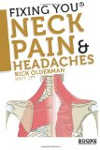 Continue Learning about Neck Pain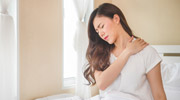 Neck pain can be caused by structural problems or trauma, like a car accident, poor posture, or even stress. A healthcare professional can help you discover the cause of your neck pain, and then help determine the best treatment. ...
That can include heat and cold therapy, massage, stretching or medication.
More