Adjust your mirrors to eliminate blind spots. If you find turning your head to check that blind spot a pain in the neck, here is a simple tip to reset your side view mirrors and make it possible to check traffic easily without twisting your neck and body: Sit in your car as if you were driving. To adjust the driver's side mirror, lean toward the driver's side window until the top of your head just touches the glass; adjust the mirror so you can just see the tip of your rear bumper. Then, lean toward the center of the car and do the same with the passenger side mirror. When you sit in the driving position, you should not see your car at all but you will have a clear view of the lane next to you. With your mirrors set this way, as traffic leaves your sight in your rearview mirror, it will pop into your side mirror; when you can no longer see it in the side mirror, your peripheral vision will pick it up. To change lanes, you only need to tip or turn your head slightly to take a peek; no more twisting around to see what is behind you.
You can also install panoramic and wide-angle mirrors to keep from overextending your neck.
Panoramic rearview mirror. Gain a larger view of the road and make it easier and safer to change lanes, merge and exit highways, without twisting your neck, by clipping a panoramic rearview mirror over your factory-installed mirror. Look for regular shatterproof, distortion-free, antiglare mirrors in two sizes: regular, to fit automobiles, and large, for vans, trucks and SUVs.
Auxiliary blind-spot mirror. Attach this to the top of your side-view mirror to give you a wide-angle view, virtually eliminating blind spots. Made of impact-resistant black ABS plastic, it mounts easily above or below your existing mirror with the use of a mini wrench (included) and your screwdriver. Available in two sizes -- standard, for automobiles, and large, for SUVs, trucks and vans.
Driveway mirror. Get a better view of what's behind you when backing out of your driveway with a large, convex mirror (like you see in banks and stores) that gives you a wide-angle view of blind curves, children playing and toys. Lightweight and break-resistant, the mirror installs easily with the included mounting bracket. Choose one with a built-in visor to reduce glare from overhead light. For household safety, one may also be mounted to give you a wide-angle view of your entryway from another room or floor.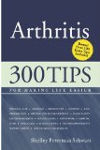 More About this Book
Arthritis
Arthritis: 300 Tips for Making Life Easier is a compendium of tips, techniques, and life-task shortcuts all learned from personal experience. Author Shelley Peterman Schwarz has lived with a chronic...
Continue Learning about Neck Pain