Dr. Oliver Sacks, a professor of neurology at Columbia University, brought international attention to the positive relationship between music and medicine through his publications regarding patients suffering from Parkinson's disease. These patients experience disorders of timing in which their movements can be too fast, too slow, or completely frozen. Dr. Sacks demonstrated that exposure to the regular tempo and rhythm of music can help them momentarily restore normal motion. Similarly, people with Tourette's syndrome are prone to sudden and uncontrolled verbal and physical outbursts, and can become controlled and tic-free while listening to (or performing) music.

These amazing results echo the words of 19th-century German philosopher, Friedrich Wilhelm Nietzsche, who said, "We listen to music with our muscles." While this is undoubtedly true, we also listen to music with our hearts. Music is profoundly emotionally evocative, and as such, can have an impressive impact on people with Alzheimer's disease, autism, and frontal lobe disorders. On the flip side, music also can be overstimulating and lead to seizures and hallucinations in rare cases. Just as with most good things in life, even music is not perfect.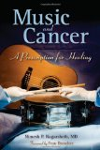 More About this Book
Music And Cancer: A Prescription For Healing
From diagnosis to end-of-life care to the meaning behind life with cancer, Music and Cancer: A Prescription for Healing is designed to improve the quality of life of people affected by cancer in a...
Continue Learning about Music Therapy