When it comes to pregnancy, there are several complications for a woman with muscular dystrophy. One of the most prominent complications is that because the woman obviously carries the genetic mutation for the disease, there's a greater chance that her child will also have the disease. Some women with muscular dystrophy may wish to have their babies tested for the disease while in the womb. Because of muscle weakness in areas that affect delivery-such as the abdomen, back, and uterus-women with muscular dystrophy may require a Caesarean section. For women whose muscular dystrophy affects their hearts, pregnancy is not advised. In all cases, it's important to have a team of doctors who are familiar with treating women with muscular dystrophy-especially at the time of delivery-in order to ensure the best possible outcome for the mother and baby.
Continue Learning about Muscular Dystrophy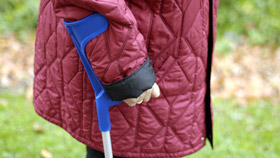 Muscular dystrophy (MD) refers to a group of more than 30 genetic diseases that cause muscle degeneration, progressive weakness and chronic or permanent shortening of tendons and muscles. Treatment focuses on symptom management an...
d can include steroids, physical therapy, breathing support devices and surgery. The prognosis varies according to the type of MD and the speed of progression.
More