Why was quinine banned for use for leg cramping?
The US Food and Drug Administration (FDA) decided that because leg cramping was more of an annoyance than a life-threatening illness - and that taking quinine for leg cramping could prove fatal - that the risk clearly outweighed the benefits. The FDA then banned quinine for any use except for malaria treatment.
Continue Learning about Muscoloskeletal Agent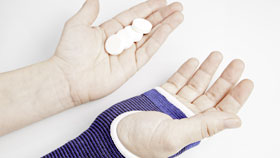 Musculoskeletal drugs relieve pain due to muscular or joint injuries or other musculoskeletal disorders. Learn more about musculoskeletal drugs from our experts.