How soon after taking Skelaxin (metaxalone) will my symptoms improve?
Skelaxin (metaxalone) is prescribed to treat the pain and discomfort of muscle spasms due to injury. It should begin working to relieve your symptoms right away (approximately 1 hour). If Skelaxin (metaxalone) does not relieve your symptoms right away, call your doctor.

Continue Learning about Muscoloskeletal Agent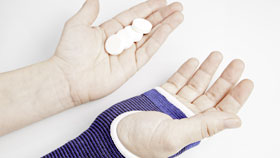 Musculoskeletal drugs relieve pain due to muscular or joint injuries or other musculoskeletal disorders. Learn more about musculoskeletal drugs from our experts.