Treat some of the immediate physical changes, including swelling, sensations of heat, and the release of loss-of-movement irritants that produce noxious pain impulses. For trauma or overexertion of muscles, two to three days of rest (minimal time in bed in addition to sleeping, and no forceful exertion) is the treatment of choice. Strained (slightly pulled) and sprained (slightly separated) tissues need time to heal and should not be taxed during the healing period. So, without being fear-avoidant, it is important to remember that insufficient rest after injury exposes you to an increased risk of further injury. However, because loss of motion can delay recovery, it's beneficial to begin gentle and comfortable movement as soon as possible.
Eventually, you'll want to exercise to make sure the tissues repair themselves fully and properly, but initially, rest and gentle movement are recommended. Complete bed rest should only be considered when even minimal movement or slight weight bearing causes severe shooting or stabbing pain.

Heat and swelling are the other two physical effects of acute injury. In keeping with good common sense, if trauma gets rest and pain gets medication, then heat, swelling, and any burning pain should get ice. Make sure you protect your skin from direct contact with ice or any other cooling agents. Then apply them with caution. For neck pain, a ten-minute application is all you need. The mid back can take up to fifteen minutes, and the lower back can tolerate twenty minutes of ice. Do not go beyond these recommended times, because too much ice may actually be counterproductive. The pain-blocking effect of ice should last up to thirty minutes, and ice can be reapplied every other hour.

Starting the third day after a trauma or overexertion injury, if there is no longer any burning or swelling in the muscles, you can apply mild, nonpenetrating heat for no more than fifteen minutes every other hour. Prolonged heat will cause prolonged weakness, soreness, and pain and should never be used in the presence of severe sharp, shooting, or stabbing pain. As your symptoms subside, so should the treatments. The initial acute phase of an injury usually lasts just three to seven days, and these recommended treatments should not last much longer.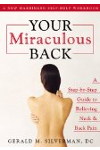 Continue Learning about Muscle & Connective Tissue Injuries