In multiple sclerosis (MS), true physical sexual dysfunction is almost always associated with weakness or spasticity of the legs or bladder-control problems. Often treatment of these problems will clear up the sexual problem, so it's important to examine each to see exactly where the difficulty lies.
Rarely, the genital area becomes supersensitive to touch or a burning sensation occurs. This can be relieved by spraying the area with ethyl chloride or applying anesthetic lotion or ointment. Medications for numbness and tingling may also work.
If sexual dysfunction is a persistent problem of a physical origin, then imaginative measures should be taken to make the sex act pleasurable in spite of this.
Popular medications for alleviating erectile dysfunction in men, such as Viagra, Levitra, and Cialis, may be successful whether the problem is physical or psychological.
Finally, communication and assertiveness in the bedroom will help a couple discover alternative means for enhancing the sexual experience. Using other parts of the body, along with imagination, creativity, and fantasy, will help change the approach to sex. Every person with MS should expect sexual pleasure and be able to find it no matter what the problem. If this proves to be difficult, sexual counseling can help couples overcome shyness and inhibitions.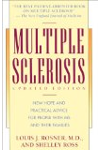 More About this Book
Multiple Sclerosis
Too often, multiple sclerosis is thought of only as "the crippler of young adults." But in fact, 75 percent of all people with MS will never need a wheelchair. In Multiple Sclerosis, Dr. Louis J....
Continue Learning about Multiple Sclerosis Treatment