The treatment of weakness depends on whether it is part of a new attack or is an old weakness. Weakness from a new attack is usually reversible with rest and cortisone. Weakness that has been present for a long time is best treated by conserving strength in the limb or limbs involved. By recognizing limits and using common sense measures to avoid overtiredness, weakness can be greatly diminished. When the patient does not recognize certain limitations, chronic overtiredness can make a temporary situation permanently worse.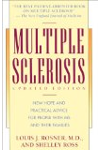 More About this Book
Multiple Sclerosis
Too often, multiple sclerosis is thought of only as "the crippler of young adults." But in fact, 75 percent of all people with MS will never need a wheelchair. In Multiple Sclerosis, Dr. Louis J....
Continue Learning about Multiple Sclerosis Treatment