Various forms of yoga, meditation, tai chi, massage, and visualization are all known to lessen stress in some cases, relieve pain, and certainly give people a better sense of well-being. We have found some yoga classes given for people with multiple sclerosis (MS) who prefer to remain seated. Massage is often helpful for those who need relief from stiffening muscles. Caution should be taken by those who take steroids as that treatment can lead to osteoporosis, which might leave the patient vulnerable to fractures during massage.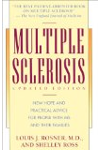 More About this Book
Multiple Sclerosis
Too often, multiple sclerosis is thought of only as "the crippler of young adults." But in fact, 75 percent of all people with MS will never need a wheelchair. In Multiple Sclerosis, Dr. Louis J....
Continue Learning about Multiple Sclerosis Treatment