Hyperbaric Oxygen (HBO) was investigated as a treatment for multiple sclerosis (MS) with the rationale that breathing oxygen under increased pressure in a specially constructed chamber would improve the conduction of signals through the central nervous system. At first it appeared that treatment had definite benefits. But later, in controlled studies around the world, results were disappointing.
In a report published in June 1986 in Neurology, a group of experts tested eighty-two patients at the Tobermory Hyperbaric Facility in Canada. Forty-one patients received twenty consecutive daily treatments of 100 percent oxygen followed by seven booster treatments over the course of six months. Forty-one patients in the control group received 12.5 percent oxygen. The results showed no significant difference in their Kurtzke disability scores, magnetic resonance imaging, or evoked potentials tests.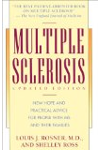 More About this Book
Multiple Sclerosis
Too often, multiple sclerosis is thought of only as "the crippler of young adults." But in fact, 75 percent of all people with MS will never need a wheelchair. In Multiple Sclerosis, Dr. Louis J....
Continue Learning about Multiple Sclerosis Treatment