Physical therapy is probably most effective in treating spasticity of multiple sclerosis (MS). Passive stretching of the involved limb is often successful in relieving spasticity, especially when used with cold packs. Cold is an excellent temporary measure for relaxing the spastic limb. Hydrotherapy is the most effective exercise for relief, combining stretching and cool temperatures.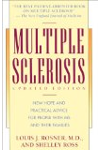 More About this Book
Multiple Sclerosis
Too often, multiple sclerosis is thought of only as "the crippler of young adults." But in fact, 75 percent of all people with MS will never need a wheelchair. In Multiple Sclerosis, Dr. Louis J....
Continue Learning about Multiple Sclerosis Treatment