Here are some tips on taking nutritional supplements if you have multiple sclerosis (MS):
Start with a complete multivitamin each day. Don't get fancy or spend a lot of money! A generic complete multivitamin from a large-scale manufacturer is all you need. Beware of fillers. Read labels to make sure of actual vitamin content.
Consider taking a calcium supplement with vitamin D, once or twice a day, depending on the number of dairy servings you consume daily. Generally 1000 to 1200 mg of calcium and 800 to 1000 IU of vitamin D daily is considered safe for most adults. Calcium supplements have 500 to 600 mg calcium and 100 to 200 IU vitamin D per day. The addition of 400 IU vitamin D will bring you to 800 to 1000 IU daily of vitamin D.
Choose a fish oil supplement that contains a small amount of vitamin E in each dose from a large-scale manufacturer. Peer-reviewed studies seem to approve of Omega-3 fatty acids and haven't indicated that they should be avoided. The Food and Drug Administration (FDA) considers 1 to 3 grams daily safe.
All patients should make sure they get the minimum daily requirements of nutritional supplements as a general rule. The taking of massive doses of nutritional supplements that exceed one thousand times the minimum daily required dose—called megavitamin therapy—has been touted, but also without reliable scientific evidence. Most researchers consider megavitamins to be "an expensive placebo." Those taking extra vitamins should be aware that too much vitamin A and D are dangerously toxic. Too much vitamin B6 can result in numbness, loss of balance and weakness apart from multiple sclerosis (MS) symptoms.
Some studies have shown that antioxidants can decrease the severity of the disease. Common antioxidants include vitamins A, C, and E, and selenium. Less common compounds include alpha-lipoic acid, uric acid, inosine, coenzyme Q10 (CoQIO), grape seed extract, pycnogenol, and oligomeric proanthocyanidins (OPCs). One risk, in theory, is that antioxidants may stimulate T cells, and potentially aggravate the disease. More studies are needed.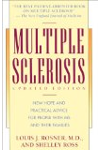 More About this Book
Multiple Sclerosis
Too often, multiple sclerosis is thought of only as "the crippler of young adults." But in fact, 75 percent of all people with MS will never need a wheelchair. In Multiple Sclerosis, Dr. Louis J....
Continue Learning about Multiple Sclerosis Treatment