Here are some ways to help you manage your medications for multiple sclerosis (MS):
Ask your doctor whether generic drugs, which are less expensive than brand-name drugs, may be used to fill your prescription.
If you are receiving drugs from more than one doctor, no one physician will have a complete list of your medications. Avoid scattering your prescriptions among several pharmacies. Instead, pick one that fits your needs and stick to it. That way, a complete record of your prescriptions and drug allergies will be on file in one place, and your pharmacist can easily check that a new prescription does not adversely interact with a medication you are already taking.
Start a new medication as early in the day as possible. If you have an adverse reaction, it will be easier to reach the doctor.
Before filling the prescription, get specific dosing instructions for each drug.
If you have trouble removing childproof tops from your medication bottles, ask your pharmacist to replace them with regular covers.
Be sure to find out what you can and cannot do to make taking your medicine easier.
If you use a medicine dropper to give liquid medications by mouth, release the liquid slowly into the cheek. Be careful not to point the dropper into the throat, which might force the medication down the windpipe.
If you have difficulty swallowing a pill or tablet, place it in a teaspoon of applesauce or butter it lightly. The pill will be much easier to swallow.
Ask your pharmacist the best way to store medications—a high-humidity bathroom cabinet usually is the worst place to put them.
Keep a log or diary if you are experiencing new symptoms or trying a new medication. If you don't write them down, you may remember only those symptoms you actually feel when you are at your doctor's office.
For more information, contact the Office of Public Information at the National Institutes of Health. For information about your specific type of MS or MS related tests, procedures, or treatments, call your local National Multiple Sclerosis Society.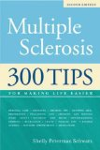 Continue Learning about Multiple Sclerosis Treatment