Intravenous immunoglobulin is used to treat certain autoimmune diseases that cause peripheral neuropathy. It is sometimes used in desperate cases of multiple sclerosis (MS) when rapid worsening is occurring. The drug is given intravenously once a day for three days every two to four weeks. It is very expensive, each infusion costing $2,000.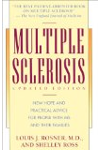 More About this Book
Multiple Sclerosis
Too often, multiple sclerosis is thought of only as "the crippler of young adults." But in fact, 75 percent of all people with MS will never need a wheelchair. In Multiple Sclerosis, Dr. Louis J....
Continue Learning about Multiple Sclerosis Treatment