Avonex, Betaseron and Rebif are all interferon beta products. While their exact mechanism of action for treating multiple sclerosis (MS) is unknown, there are several hypotheses regarding how they work. In theory, the interferon drugs seal off the blood brain barrier and inhibit the T cells from being activated. This prevents the T cells from entering the central nervous system (CNS) and destroying myelin, and ultimately, the nerve axons.
The interferon beta 1-a (Avonex, Rebif) and interferon beta 1-b (Betaseron, Extavia) drugs for multiple sclerosis (MS) have flu-like symptoms following injection, which can be minimized by taking acetaminophen (Tylenol), naproxen (Aleve), or ibuprofen (Advil or Motrin). Their less common side effects include allergic reactions, depression, suicidal ideas, liver and thyroid functions affected (altered thyroid test and elevated liver enzymes), and low red or white blood cell counts.
Because they affect the liver, you may bruise more easily or your skin may change color (make sure you inform your doctor). Avonex has been associated with heart problems, although it's not clear that the drug was the culprit. Since they are all injected, you may have localized reaction in the injection site like redness in the skin, bumps, bruises, pain and infections. Learning how to correctly inject yourself or using autoinjecting devices may help to minimize these effects.
In 1991, the National Institutes of Health funded a $2 million clinical trial of beta interferon. It reduced relapse frequency (by about one third) and severity compared with placebo. Disease progression as measured by EDSS was also decreased. And multiple sclerosis (MS) lesions on magnetic resonance imaging (MRI) were reduced in number or disappeared.
Betaseron is injected under the skin every other day; Avonex, injected into the muscle weekly; Rebif, injected under the skin three times a week. Betaseron has now been in use for sixteen years and, studies show, yearly relapse rates decreased up to 40 percent over the control group. Progression of disability was delayed by six years. Conversion to a progressive course was 16 percent lower.
The other interferons have been in use for a shorter time, but also significantly lower annual relapse rates and disability risk. How interferons work has never been fully established. But there is evidence that these agents interfere with T-cell activation, thus inhibiting the body's immune response, and interfere with blood-brain barrier function as evidenced by the dramatic reduction in number of enhanced (new) lesions on MRI seen in many MS patients who receive the drug.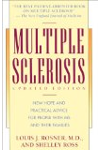 More About this Book
Multiple Sclerosis
Too often, multiple sclerosis is thought of only as "the crippler of young adults." But in fact, 75 percent of all people with MS will never need a wheelchair. In Multiple Sclerosis, Dr. Louis J....
Continue Learning about Multiple Sclerosis Treatment