There are a few treatment options for people with multiple sclerosis, or MS. Medications like Copaxone, Tysabri, and others can be prescribed to help slow the progress of the disease and relieve symptoms. The most commonly prescribed medications are anti-inflammatory corticosteroids. Beyond medication, a procedure called plasma exchange separates the plasma from your blood, which can help combat more severe symptoms. Patients can also attend physical therapy to learn about tools that may help them move around such as braces or crutches, and to work with a trainer to stretch and build their muscles. Other options are available as well, so talk with your doctor about the treatment that is right for you.
The tendency of multiple sclerosis (MS) to remit, or improve spontaneously, makes it very difficult for scientists and patients to evaluate various treatments. In fact, this characteristic of MS has led to many ineffective, even bizarre treatments, not to mention a host of false claims for a cure. It is important to accept that today there is no cure for multiple sclerosis. This doesn't mean that many treatments today aren't effective. It just means that because MS is still a mystery disease, many treatments may be disputed now or in the future.
New advances can modify the course of the disease, lessen the frequency and severity of attacks, manage symptoms, and improve the quality of life for people with MS and their families.
For now, the greatest successes in treatment have been the tackling of individual symptoms. With rare exception, every symptom of MS can be treated, and every single patient can be improved. Rest and steroid treatment, along with the elimination of underlying infections, are the only treatments that have stood the test of time and can get most patients out of an acute attack.
The first step in getting good treatment is selecting the right doctor, likely a neurologist. This is a doctor who knows multiple sclerosis (MS), will follow the case carefully, and will be available when needed. In more complicated, advanced MS, the neurologist may need to call on a variety of experts in other fields.
As we've emphasized, there is no situation in MS that cannot be improved by effort and careful management. Sometimes it can be as simple as taking the right dose of the right medication. At other times it can be as complex as a prolonged program of physical therapy and efficient planning of daily activities to preserve optimal strength and conserve energy.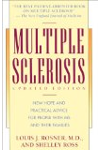 More About this Book
Multiple Sclerosis
Too often, multiple sclerosis is thought of only as "the crippler of young adults." But in fact, 75 percent of all people with MS will never need a wheelchair. In Multiple Sclerosis, Dr. Louis J....
While there is currently no cure for multiple sclerosis (MS), there are treatment options to help people feel better:
Steroids: Steroids help calm the immune system during an attack to help symptoms go away faster.
Disease-modifying therapies (DMTs): DMTs can also be used for relapsing MS. DMTs help reduce the number of MS attacks by blocking the immune system from damaging the nerves. Treatment with a DMT is usually started right away, before the immune system has done too much damage. In addition to the benefits of these treatments, they also involve risks.
With the currently available disease-modifying therapies, it is possible to slow the progression of disability. Some people respond quite well to these therapies and may experience little to no disease progression for years. For other people, the treatment may slow, but not stop the progression of MS. It is important for people who have been diagnosed with MS to be proactive. They should discuss their treatment options with their healthcare providers.
Researchers estimate that at 20 years after a multiple sclerosis (MS) diagnosis, about one-third of people who receive no disease-modifying therapy may require a wheelchair or other assistive device.
Finding the most appropriate treatment can be the key to getting the optimal benefits from MS therapies available today.
Continue Learning about Multiple Sclerosis Treatment