One of the most important relationships, yet one of the least cultivated, is that between the patient and doctor. Until a cure for multiple sclerosis (MS) is found, this is a relationship that is going to last a long time - so it had better be a good one. It is very important for you to have a doctor who gives you confidence and hope. The doctor who tells you "there is nothing we can do" or that disability is inevitable, is, frankly, a loser. Find another doctor. Don't ever be afraid to change neurologists.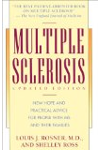 More About this Book
Multiple Sclerosis
Too often, multiple sclerosis is thought of only as "the crippler of young adults." But in fact, 75 percent of all people with MS will never need a wheelchair. In Multiple Sclerosis, Dr. Louis J....
Continue Learning about Multiple Sclerosis Treatment