Bee venom therapy (BVT) has been traced back to ancient Greece and Egypt. Bees, held by a pair of tweezers, are placed on certain areas of the body, allowing the bee to sting as many as forty times, usually three treatments a week. Animal studies have shown BVT to be ineffective or actually linked to worsening of the disease process. But there are some clues in the research that warrant further investigation. It may be that the bee stings trigger the body to produce an anti-inflammatory response that not only helps quiet the bee sting, but any other inflammatory condition as well, such as multiple sclerosis (MS) or arthritis.More recent studies show that some chemical components of bee venom can inhibit production of enzymes and proteins linked to inflammation. Also, apamin, another chemical compound found in bee venom, is now known to inhibit potassium channels, the mechanism at work with 4-AP, a more conventional therapy that has been shown to lessen MS symptoms, especially those that are heat-sensitive. It is occasionally recommended for treatment of visual symptoms, but any bee sting near the eye area can actually cause optic neuritis, not help it. Bee venom is a harsh treatment, never properly tested. Side effects, in rare cases, can even be life threatening such as anaphylactic shock resulting from an allergic reaction.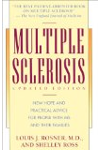 More About this Book
Multiple Sclerosis
Too often, multiple sclerosis is thought of only as "the crippler of young adults." But in fact, 75 percent of all people with MS will never need a wheelchair. In Multiple Sclerosis, Dr. Louis J....
Continue Learning about Multiple Sclerosis Treatment