Until a treatment was discovered to alter the course of multiple sclerosis (MS) and reverse it, the best strategy was the management of symptoms and rehabilitation of persisting problems. With the use of medication, physical therapy, psychotherapy, mechanical devices and good old-fashioned common sense, something can be done to help each and every patient. Treatments may vary with the stage and severity of the disease, but the goal remains the same: to return the patient to normal or as near to normal as possible. Every single symptom can be tackled, and everything that happens in MS is treatable, although some symptoms are more easily treatable than others.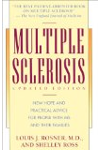 More About this Book
Multiple Sclerosis
Too often, multiple sclerosis is thought of only as "the crippler of young adults." But in fact, 75 percent of all people with MS will never need a wheelchair. In Multiple Sclerosis, Dr. Louis J....
Multiple sclerosis treatment also includes controlling its symptoms. Medications are available to address specific symptoms, such as spasticity, fatigue, incontinence and sexual function, explains neurologist Charles Smith, MD.
Continue Learning about Multiple Sclerosis Treatment