For treatment of multiple sclerosis (MS), early positive signals began with a few leukemia patients who also had MS. Their bone-marrow transplants not only helped their battles with leukemia, their MS symptoms improved as well. By 2005, there were 250 MS patients who underwent bone-marrow transplants. Some online diaries reveal the challenges of bone-marrow transplantation, also called "autologous stem-cell transplantation."
A patient is given infusions of his or her own bone marrow, which has first been extracted and treated. Since no one knows how you get MS or where it might lurk, care is taken to not reinfect the patient with MS. Chemotherapy and sometimes whole-body radiation are also used to wipe out the person's immune system before the treated bone marrow is given back. The treatment requires hospitalization for about a month, during which time the patient can experience fevers, weakness, urinary problems, and infection, until the immune system is built back up. One blogger called Day 17 "hell day." He described a year-long battle to regain his strength and was able to note real stability and improvement in his MS only after about a year.
Most people seeking transplants are those on a rapid, or continuing progressive course, like the blogger. Adult stem cell transplants have produced some good results, usually for younger, less disabled people. But others have seen their MS return, and with more progression. In some cases patients have died, a sobering reminder that while promising, stem cell research is in its infancy and that the nature of scientific research is responsible trial and error with high risks often preceding the high rewards.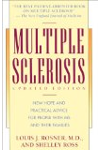 More About this Book
Multiple Sclerosis
Too often, multiple sclerosis is thought of only as "the crippler of young adults." But in fact, 75 percent of all people with MS will never need a wheelchair. In Multiple Sclerosis, Dr. Louis J....
Continue Learning about Multiple Sclerosis Treatment