Tonic Seizures
There is a rare phenomenon in multiple sclerosis (MS) called the tonic seizure, which is a brief attack, lasting just seconds, in which one side of the body stiffens into a twisted position when the individual gets up to walk. The arm draws up and the leg straightens out. This lasts a few seconds, then the limbs relax and the person can walk. These are not epileptic seizures, however, and the patient remains alert. Tonic seizures are rare, occurring in only 5 out of 800 patients seen by this author.
Paroxysmal Symptoms
When a symptom occurs in brief episodes of a few minutes at a time, it is called a paroxysm. Most common are double vision, slurred speech, incoordination, and tonic seizures. Akinesia, the inability to move one or more limbs, is another multiple sclerosis (MS) paroxysm, although it is more typically a symptom of Parkinson's disease. Paroxysmal symptoms, sometimes lasting only twenty seconds, usually remit and relapse just as in other MS attacks. Symptoms appear suddenly and continue with a degree of intensity, then remit completely after a few days or weeks.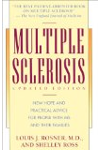 More About this Book
Multiple Sclerosis
Too often, multiple sclerosis is thought of only as "the crippler of young adults." But in fact, 75 percent of all people with MS will never need a wheelchair. In Multiple Sclerosis, Dr. Louis J....
Continue Learning about Multiple Sclerosis Symptoms